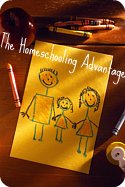 Subscribe to
The Homeschooling Advantage
Please subscribe to my newsletter...
It tells you each month about the new information that I have added.
---
Our Sponsors


---
What our readers are saying

Hello!!! I just came across your website while looking for some sort of encouragement online.
Your website has already been such a blessing to me!!! I just wanted to thank you for doing this! Women like me really need it!
I am about to start preschool with my lil guys and the information you have on homeschooling and chores is amazing! Thank you!!!! God Bless you!!!! :) -Ashley
---
I love your website. We are a military family who move a lot

Now that I am full-time at home and student myself, I decided to home school my daughter maybe until kindergarten. I love all the ideas, encouragement and information your page. Great way to start me off!!! - Roxana
---
This is an unbelievably helpful website! Thank you so much for sharing all your knowledge.
I had so many questions and your site got me started on some of the answers to some of those questions!
I have a 7th grade student and a 9th grade H.S. student (Freshman) they began homeschooling 3 months ago for the first time ever.
- Thank-You, Nikki W.