What Are Age Appropriate Chores
For My Preschooler?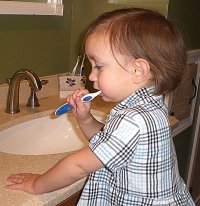 Age appropriate chores are important to start teaching early on in a child's life. Teaching responsibility and hard work need to begin as soon as possible.
In our family, everyone has chores that they are responsible to do, even my preschool children. It is important to teach your preschooler that there ARE chores for children to do!
My preschoolers feel special and responsible when they accomplish their chores. They love the praise it brings and the chance they have to be "Big Girls"
Age appropriate chores teach your preschool child to serve and not always be served. That is why age appropriate chores are perfect for the preschooler.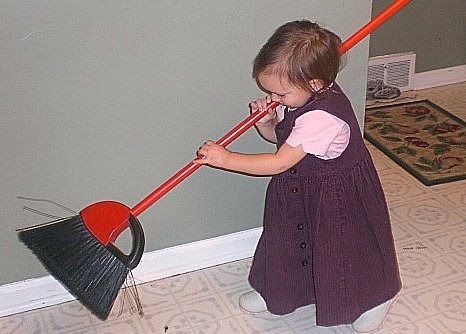 Age Appropriate Chores for Preschoolers
Brush their teeth - A habit established early in life that will not be forgotten.
Make their bed - Every person in my family makes there own bed...even my 2 year old. Is is perfect? NO, but it is a good habit starting to develop. Pulling up covers, putting pillows on, folding blankets...all are chores children can be taught early on. If the bed is made correctly, all the child has to do is pull the covers up and put on their pillow.
Put their pajamas away - Even a two, three, and four year old can place their pajamas under there pillow.
Pick up their toys -This chore an is all day responsibility. Do not say, "pick up your toys," instead say,"put the blocks in the bucket"! or "let's put all the books in the box"! Preschoolers can get overwhelmed with to many instructions at one time.
Table chores - Each of my preschool children have a different table chore to do. For example, "Put all the forks in the sink", "throw all the napkins in the trash", or "wipe off the chairs with a rag." With 8 children, the table is cleared and the kitchen is straightened up in a matter of minutes...everyone has an age appropriate chore.
Practice music - If your preschooler is learning some sort of instrument...like violin, they would practice 10-min.
Take a nap or rest with out fussing- This can be a big chore! Some children do not need a nap, but may need a quiet time. This time is used to read quietly in their bed or play with a toy quietly.
Put clothes neatly on the dresser - When pajamas are put on in the evening, they place their clothes neatly on the dresser to be put away by myself or a sibling.
Read or have someone read their Bible with them. - If you have the Jesus Story Book Bible, the child can look at the pictures for 3-5 min to teach them a quiet time with God's word. Another idea is to have an older brother or sister read the Jesus Story Book Bible to the children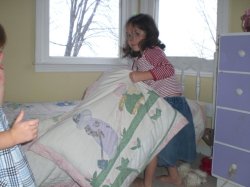 Tips To Help Teach Chores for Children
Children love to imitate - In the morning, I have a routine I go through to straighten up the house. I always have my 2 and 4 year old "help" me. 
Encourage your preschooler to do what you do. - When I sweep, my preschooler sweeps with her broom, when I vacuum, she vacuums with her toy vacuum. We dust together, pick up toys, sort laundry. They are with me the entire morning.

 Give a lot of praise - such as, "What a big helper!", "Where is my helper?", or "You are doing such a big girl job!" 
Sing while you work - Music lightens your mood and theirs.
Teach your children to help- the opportunity I have spending quality time teaching and training them while we work and sing together is invaluable!
They are much more content spending time with me in the mornings than playing by themselves alone.
Later when all the morning chores are done, then my preschoolers are ready to play, read together, do crafts and have fun.
They are so proud to be Mommy's little helpers!
Free Printable Chore Chart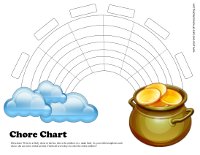 Preschool rainbow chore chart.


More Great Preschool Content

---
Return from from Age Appropriate Chores to Home School Preschool
Return from Age Appropriate Chores to Pros and Cons of Homeschooling