Preschool Art Projects
<<
>>
Preschool art projects can be fun for everyone! No need for a lot of money spent. We have done several of these fabulous preschool art projects and had a great time!
Planning preschool art projects do not need to be stressful. Clear off space on your table or make a special craft place to have fun.
Start enjoying making preschool arts and crafts as soon as today!

Play Dough
Play Dough
4 teaspoons cream of tartar
1-cup salt
1 1/2 - 2 cups boiling water
3 - 4 Tablespoons vegetable oil
2 cups flour
Food coloring
Add oil and food coloring to boiling water. Combine remaining ingredients, and mix well. As you knead it, the dough will get smoother. Store in airtight container. Very pliable and easy to roll or sculpt.
Edible Peanut Butter Play Dough
1/2-cup peanut butter
1/2 cup honey
1 cup powdered milk
Knead until smooth.
Kool-Aid Enhanced Play Dough
Try a variety of Kool-Aid flavors and colors (grape & orange are our favorites. . . Also, add a little alum to the dry ingredients to preserve the play dough for a longer time
2 cups flour
4 teaspoons cream of tartar
1 cup salt
1 1/2 cups boiling water
3 - 4 Tablespoons vegetable oil
Kool-Aid
Add one package of Kool-Aid mix, oil and food coloring to boiling water. Combine remaining ingredients, and mix well. As you knead it, the dough will get smoother. Store in airtight container. Delightfully scented, very pliable and easy to roll or sculpt.
Creative Preschool Art Projects
Heavenly HandsBakeable Salt Clay
Use cookie cutters or mold Salt Clay by hand, then bake in a 300 degree oven for use in creating refrigerator magnets, jewelry, ornaments, key chains, necklaces, and more.
Stir together:
2 cups plain flour
1 cup salt
1 to 1 1/2 cups cold water
2 tablespoons cooking oil
Knead well until it forms a soft ball. Line a baking tray with aluminum foil, make the shapes you want, and bake in the oven at 300 degrees or until hard (about one hour).
You can use food coloring to color dough before you bake it, or paint it afterwards. A finishing coat of shellac or clear acrylic will make your salt clay products last longer.
Paper Airplanes
Starting with an 8 1/2 x ll" sheet of paper, fold the paper in half lengthwise. Next, fold down the corners as shown in the figure at left below. Then fold each side down to the center again, and then again as shown in the illustration below. If desired, planes may be decorated with crayons, markers, stickers, etc.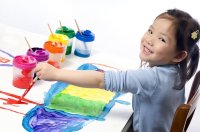 Bubbles, Finger Paint, and Slime!
Bubbles
1-cup water
1/3-cup dish soap (Joy, Sunlight, etc)
2 Tablespoons light corn syrup
Combine ingredients and enjoy. If you don't have bubble blowers around the house, be creative and try using different objects from your utensil drawer, (e.g., apple corer, potato masher, handle of a basting brush, etc. They work.)
Finger Paint
1/4 cup cornstarch
2 cups water
food coloring
Mix ingredients in saucepan. Boil until mixture thickens. Allow cooling, then pouring into jars or other storage containers and coloring with food coloring. Best used on a glossy paper, such as butcher or shelf paper.
Oobleck or "Play Slim
Corn starch
Water
food coloring (optional)
Put cornstarch in bowl. Add enough water to make a paste. If desired, you may also add food coloring. This makes a messy slime that goes from liquid to solid, and is great fun to play with. This recipe (or green playdough) is especially fun to make after reading Bartholomew and the Oobleck by Dr. Seuss!
More Arts Crafts
Brighter-than-Ever* Rice Collage
1 cup rice
Approximately 1 teaspoon rubbing alcohol
Food coloring
Paper
Elmer's glue
To color rice, add a few drops of food coloring to alcohol in a jar or Ziploc bag. Add rice and shake. Let dry on waxed paper. (Caution: This makes a MESS! Wear an apron and cover work area with newspaper.)
Children put some glue on a piece of paper and sprinkle rice onto it.
If you don't have the time or the patience to make colored rice, kids can also make great collages using any number of everyday items. If you have noodles, beans, split peas or other dry goods in your cupboard, you have the makings for a fun and interesting collage.
Pinecone Bird Feeders
Large pinecones
Peanut butter (Birds prefer chunky over smooth!)
Shortening
Cornmeal
Birdseed (optional)
Fishing line, string or yarn
Wrap and tie string to top of pinecone. Mix peanut butter, shortening, (such as bacon fat or melted suet), and cornmeal. Then, spread the mixture onto a large pinecone. Hang your bird feeder in a spot where you can watch the birds eat. Note: If you use smooth instead of chunky peanut butter, you may want to mix in a little birdseed for added interest and enjoyment. Did you know? Birds have trouble digesting peanut butter! It can also get stuck in their beaks. This is why bird experts recommend the addition of shortening and cornmeal when preparing homemade birdfeeders of this type.
Pen & Pencil Toppers
Bright color of fun foam
Pencils or pens
Scissors
Hole punch
Trace any of the flower, star or leaf patterns on the fun foam, cut apart and punch a hole where the dash is. Pull over the eraser end of your pencil. Layer leaves with flowers. Use a cleaned out, small, plastic chocolate milk 'chug' container for a vase, tie with a ribbon at the top.
Potato Hedgehog
Objectives: Building small (fine) motor skills while creating a fun work of art.
Raw Potato
Toothpicks
Paints
Wiggly Eyes
Glue
Take the potato and paint it. Once dry, poke some toothpicks in the top of it. You may want to give you hedgehog some legs, using the toothpicks. Glue on the wiggly eyes.
Alphabet Preschool Art projects
Alphabet Animal Collage
Objectives:Learning the alphabet.
Construction paper
Markers, crayons, paints, etc.
Magazines (Zoo Books, National Geographic, etc.)
Scissors
Glue
Mom: writes a letter on the paper Children: find animals from the magazine or draw pictures of animals whose names start with that letter
Creative Fun with ABC's
Heavy paper or cardboard
Pencils or markers
Scissors
Parent: On heavy paper or cardboard, draw out the letters of the alphabet - both lower case and UPPER CASE
Parent: Cut out each of the letters (you can cut around the letters in a square, you don't have to cut "around" each little section).
Play a game with your little one where you match the small letters with the capital letters. When letters are matched, think of a word or name that begins with that letter. Say the word or name out loud a few times together with your child.
Shapes Preschool Art Projects
Fun With Shapes
Colored construction paper cut into shapes:
10 squares
10 circles
10 triangles
10 rectangles
Have children sit in a circle or sit across from your child on the floor.
Place all of the cut-out shapes in the middle of the floor.
Have the children choose a number of shapes.
Each child then creates an animal or other creature using the shapes they have picked up.
Make a game of it and when one "round" is complete, put all the shapes back in the pile and start again.
More Great preschool Helps