Landmark Freedom Baptist Curriculum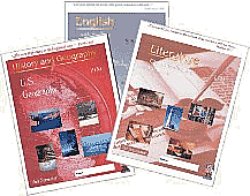 Landmark Freedom Baptist's web site states:
Landmark Freedom Baptist Curriculum is the only full-line (K through 12) curriculum owned and operated by a local independent Baptist church.
This is your assurance that the Landmark Freedom Baptist Curriculum is and will remain doctrinally sound. Suitable for both church school and homeschool application, LFBC is designed to be self-instructional. The curriculum is:
Self-Instructional
Academically Challenging
Biblically Sound
Basics Oriented
Pros
Each subject set costs $40 and has workbook/textbook combined, score key, weekly quizzes & quarter tests with score keys.
Discounts are also available for Full Time Christian Workers. This includes those whose sole income is derived from pastoring, church staff employment, evangelism, or missionary work.
They provide score sheets, procedures guide & you can purchase report cards for $1.
LFBC has a moderate-size list of electives: Cursive Writing, Shop, Home Economics, Spanish I, Principles of Music, Computer Literacy, etc.
This is a very easy program to use. Lessons are set up on a day 1 to day 5 basis, with a quiz every Friday (or day 5).
Lesson plans are done for you.
Will help you keep records:
It is unapologetically Baptist in doctrine and a ministry of a local, New Testament Baptist Church.
Cons
The Teacher's Guide is NOT a guide. It's an answer key. There are no tips for teaching at all.
Math does not offer solutions to the problems, only answers.
Program Available to Graduate
Upon completion of all prescribed curriculum, a student will be graduated from the Academy. Students must complete at least one year (6 credits) with the Academy in order to be graduated.
Students are invited to participate in the commencement exercises with other homeschool graduates in Haines City, Florida.
Academy students are required to meet the State of Florida's requirements plus any additional courses dictated by your state of residence. A minimum of 24 credits is required.
Course Required Credits
Bible-1 credit for each year enrolled, 4 credits total
English-4 credits
History-3 credits including U.S. History, World History, and U.S. Government/Economics
Literature-none required; may be taken for elective credit
Mathematics-4 credits
Science-3 credits including Physical Science, Biology, and Scientific Creationism
Life Management Skills-1 credit Health/Dynamic Biblical Living
Practical/Performing Fine Arts-1 credit Academy requires Principles of Music
Physical Education-1 credit*
Electives-The balance up to 24 credits


What do you think about Saxon Math?
Did you like this curriculum? What was your favorite part? What did you dislike?
Return from Landmark Freedom Baptist Curriculum to Homeschool Curriculum Reviews

Return to Pros and Cons of Homeschooling
---