12 Homeschooling Benefits

What are the homeschooling benefits? Being a homeschooling mom of nine lively children from to newborn-18, I have learned many advantages of homeschooling AND homeschooling pros and cons!
Why does homeschooling get rave reviews? Let's get started by looking at what makes homeschooling such a great choice for thousands of homeschool families around the world.
Benefits

1. I have the chance to be able to choose the best homeschooling curriculum that is perfectly suitable for my children and their individual needs.
Research a few curriculum programs before you find one that works for you and your family.
If a curriculum does not work, one of the pros of homeschooling is not having to use that one again...try something different until you find one that works for your child.
Some children may use the same curriculum, yet others, may use other curriculum altogether based on their particular need.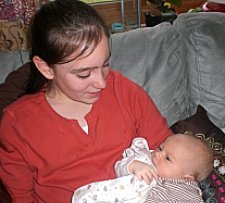 2. Having the opportunity to spend more time with each one of my  children has been one of the best homeschooling benefits.
As the bond between my children grow, the foundation for open communication, discussion of personal matters, and Godly guidance is strengthened between each one of my children...Especially since I see them 8 hours MORE than the adverage parent whose child goes to "regular school".
3. It is a great way to get an affordable, quality, Christian Education. Many parents would love to send their children to a private christian school, but can not financially afford the opportunity.
Homeschooling provides the benefit of a quality Christian education, without the sticker price.
For instance, to send my 8 school children to a private christian school would cost me from $20,000 a year, but to homeschool all 8 children this year cost me $1500.00. That is about $187 for EACH child!
On average, it costs $10,615 to send a kid to public school for a year. (That's federal, state and local government spending combined.)
3. If you have a special needs child, you have the perfect opportunity to give her that one on one time she needs.
One of my children needed that extra time to learn to read. With much perseverance and encouragement from Mom...he learned to read!
One of the reasaon we started homeschooling was because my oldest daughter had had surgery and had some major health problems. It was so much easier caring for her in our home and having the privalege of eduating her at the same time.

4. This is the perfect environment to instill in my children the character and values I want. I love the times my children come to me for help instead of turning to their peers.
Home schooling can pave the way for  good character development.
On of the strongest desires I have as a parents is to see good character and a Godly spirit in my children. I as the homeschooling parent have  constant access to my child along with the ability to observe, address,and impact the their behavior.
Its a homeschooling benefit to guide the decision making process and all other aspects of my child's character development.
5. Homeschooling can help your family to follow a great schedule that is tailored just for your needs. Following a schedule is what keeps our household and school running smoothly.
My husband is a Pastor, so he works on Saturdays but takes Thursdays as his days off. With homeschooling we can take the same days off as him and do school on Saturday! This gives us more time as a family.

6. Statistically, homeschooling students score higher on achievement tests then public school students.
These studies show that homeschooling vs public schools achievement testing outperform almost every time. Many studies over the last few years have established the academic excellence of homeschooled children.
7. I love the homeschooling benefits of teaching the importance of working together in chores to help the household run more smoothly. We use a chore schedule to help my children know exactly what is expected of them.  Even my preschoolers learn to do chores around the house!
8. Homeschooling benefits are that an accelerated student can advance in one subject and be grade level in another.
When I first started homeschooling my 3rd daughter, she was 2 grade levels ahead in reading. I was able to put her in the advanced reading grade level while at the same time keep her in her current grade for all the other subjects.
One of my boys really struggled with learning to read. I was able to cater to his particular trouble and now he is one of my best readers. It just took him a little longer to catch on.

9. A homeschooled student can be protected from negative influences such as bullying, drugs, sex, and peer pressure. Check out these statistics on the public schools.
Violence and Crime in School - In 1999-2000, 20 percent of all public schools experienced one or more serious violent crimes such as rape, sexual assault, robbery, and aggravated assault. Seventy-one percent of public schools reported violent incidents and 46 percent reported thefts.
As a homeschooling mom, I have the freedom to protect my children from these negative influences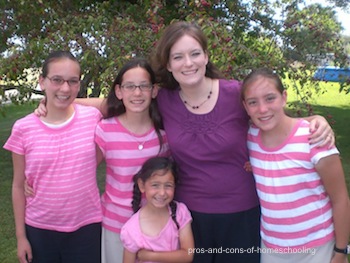 10. With the parents help, teens can mature mentally and spiritually during their teenage years. Teenagers can become an asset and a blessing to the entire family and ultimately the community!
It is a myth created by our secular culture that teenagers are always rebellious. If a parent can get the teen's heart, then a deep relationship will develop between the parent and teen.
The results are a mature yet fun loving teen who enjoys being around their family and is a asset to the home.

11. Tailored field trips and vacations that coincide with the learning process can occur throughout the year and be very educational. We have had so much fun by going to science museums, childrens museums, zoos, and even the store to learn about a particular subject we were studying.

12. I can nurture my children's natural (musical, artistic, mathematic) talents so they thrive and grow. My oldest son loves graphic design, so he has the opportunity to intern a Christian camp to help in thier graphic design program. My other daughter loves violin, so she can take lessons at times when most students are in the middle of classes.
More Info on the Advantage of Homeschooling

 There are many Homeschooling Pros and Cons that can affect the decision to homeschool and each option should be weighed carefully.
Why do you Homeschool? What do you see as the Advantage of homeschooling?  Write your reason here!!
Return from Homeschooling Benefits to Advantage of Homeschooling

Return from Homeschooling Benefits to Pros and Cons of Homeschooling